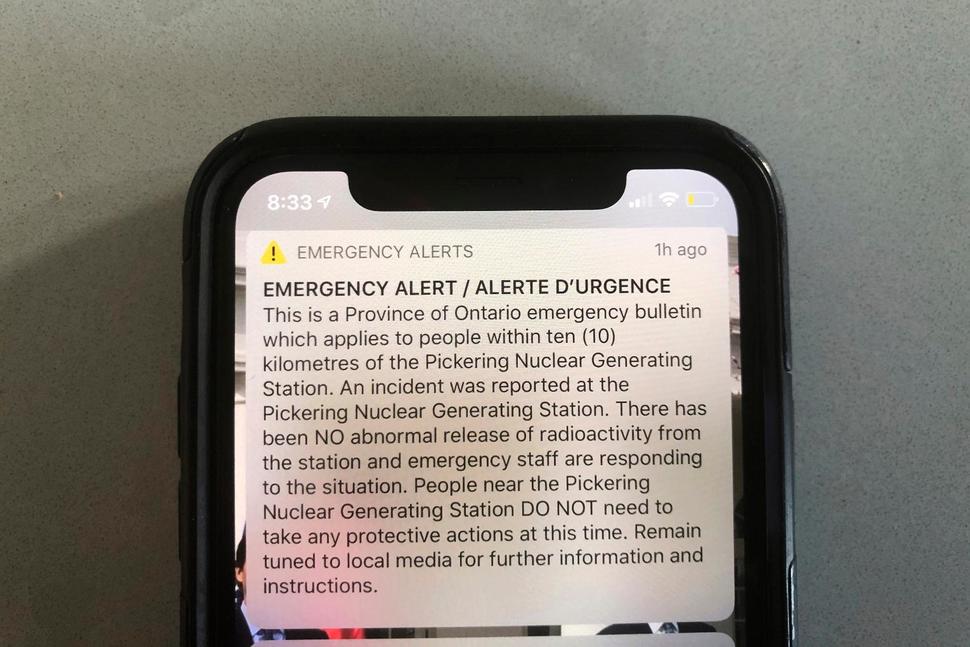 (AP Photo/Robert Gillies)
People throughout the Canadian province of Ontario awoke to an emergency alert warning of an "incident" at a nuclear plant near Toronto _ only to be told later that the message was a mistake.
(AP) The initial warning popped up Sunday on cellphone screens and television screens throughout the province of 14 million. It said an unspecified event had occurred at the Pickering Nuclear Generating Station. It added that there had been no abnormal release of radioactivity. Some people planned evacuations. More than an hour later came another message saying the first alert had been an error.
"No further action is required," said the message, which was also sent to television screens.
The alert went out during a routine training exercise being conducted by the Provincial Emergency Operations Centre, Ontario Solicitor General Sylvia Jones said in a statement that apologized for the mistake.
She said the government had started a full investigation and would "take the appropriate steps to ensure this doesn't happen again."
The U.S. Department of Homeland Security's inspector general recommended changes to the emergency alert system in the United States after Hawaii officials in 2018 mistakenly warned the public about a nonexistent incoming ballistic missile. An employee at the Hawaii Emergency Management Agency sent the missile alert to cellphones and broadcasters, triggering panic until the agency sent another message 38 minutes later notifying people it was a false alarm.
Pickering, which opened in 1971, was scheduled to be decommissioned this year, but the provincial government committed to keeping it open until 2024. Decommissioning is now set to start in 2028.
Ontario Power "has a sophisticated and robust notification process in place that we would immediately follow in the unlikely event of an incident at the station," Chief Nuclear Officer Sean Granville said. "I want to assure the public that there was no incident at the station, and the plant is operating as designed."